Our operations are in full production and all our support teams remain in place to provide products and solutions for you. By the grace of God, no Valley Rubber employee has tested positive for COVID-19. All our team members are doing a great job following recommended safe practices.
You & Your Team: I have been encouraged to read and hear stories of how many of our Customers are dedicated to keeping their employees working while going to great lengths to ensure they are safe.
Supply Chain: There have been no significant disruptions in the supply of raw materials. We will continue to monitor this situation.
Critical Suppliers: Many of you are classified as critical suppliers. It is our intent to continue providing what you need from us, but we will let you know at the earliest moment possible if you will be negatively impacted by restraints placed on us.
Our Team: Valley Rubber is blessed to have a dedicated team that is passionate about solving problems for you. I have included a Team Directory in this correspondence. Please do not hesitate to ask any of us for anything. Below are a few department updates that may be of interest.
Safety:
Our Safety Manager and the Executive Team continue to monitor the rapidly changing conditions associated with the Coronavirus. We have and will continue to comply with all local, state, and federal mandates.
Customer Service: Each member is currently working and has a separate office, providing proper distancing for maximum protection.
Sales: For safety and at the request of most customers, our salespeople are working from their home offices and can quickly respond to any questions or concerns you may have.
Engineering/CAD: This group is in a close and open work environment. Due to this, we have a couple people working from home, but they are fully engaged in their daily responsibilities.
Manufacturing: We are fully staffed and continue to work at the maximum level of production.
Shipping: Unless prohibited by law or our customer, our logistics group has continued with daily shipments.
As stated in part of our mission, we believe it is by God's grace and purpose that we are here. We trust in Him to provide for our future as we serve you, our employees, and the community.
May God bless you, your business, and the families you serve!
Peace,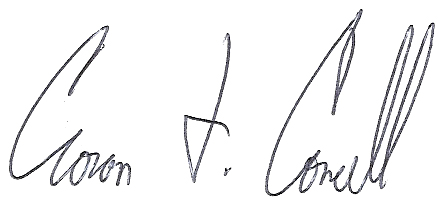 Cronan Connell
President